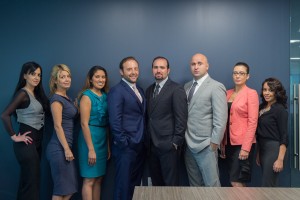 D&Z Law Group is an experienced law firm that specializes in Civil Litigation in all facets including Personal Injury, Traumatic Brain Injury, Wrongful Death, Truck Accident, Construction Accident, Business and Individual Insurance Litigations, Lemon Law, and Social Security Disability. We pride ourselves in our quality of work and delivering our client the best result. Honesty and integrity are what set us apart and our ability to consistently deliver is what makes us one of a kind.
Since opening our firm's doors back in 2012, we have quickly become one of the most trusted personal injury attorneys around. We provide honest, dedicated, and aggressive representation to all of our clients because we truly care about getting you the compensation that you rightfully deserve. Whether you need the help of a truck accident attorney or a traumatic brain injury attorney, know that you can always count on our legal team.
Find an attorney today:
Everything in Your Best Interests
Unlike other law firms, we genuinely care about all of our clients. To us, you aren't just a number. You are a human being who needs our help and support. This compassionate approach from our personal injury attorneys allows us to always put your best interests first. Whether in court or at the settlement negotiation table, your wrongful death attorney will always fight hard for what is best for you and for every penny you deserve.
Dedicated and Hard Working Team
When meeting your wrongful death lawyer for the first time, you can expect us to take the time to learn everything there is to know about your situation. This allows us to prepare the strongest strategy for your case, which only helps your cause.
Our hard working team of personal injury lawyers in Los Angeles is ready to serve you in all of your legal needs and each construction accident attorney is ready to step into the lion's den for our hard working clients. With a lawyer assigned to your case and a team of lawyers assisting in all facets of our business, we are confident in our ability to help you through life's obstacles. It is with this in mind that we invite you to contact us for all your legal needs and allow us to assist you in all of your legal matters. The lawyers at D&Z Law Group, LLP are some of the absolute best and take pride in what they do. With offices in Los Angeles and Glendale, D&Z Law Group handles cases all throughout California, especially in Southern California and San Joaquin Valley.
If you need the help of experienced personal injury attorneys or you wish to speak to a brain injury attorney to see if you have a valid case on your hands, call us at 1-818-9379433 or 855-2674460 (toll free). We offer FREE initial consultations to all of our clients.
We look forward to serving you…
Our Offices